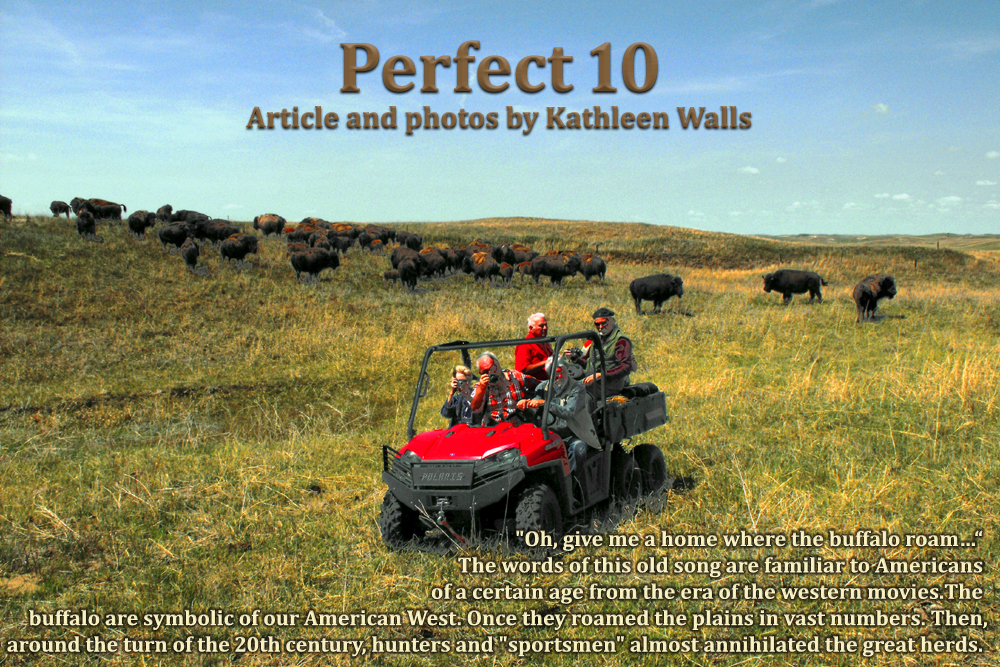 They represent not only the culture of the west but the lifestyle of the Sioux Indians. "The buffalo have to be there for our culture to exist. As we bring our herds back to health, we will also bring our people back to health." says Fred DuBray, a member of the Cheyenne River Sioux tribe.
A few of the Perfect 10 herd
They are so much a part of American culture it's hard to imagine our country without them. Actually, their correct name is American bison. True buffalo are located in Africa and Asia. Early pioneers began calling these great plains animals "bufello" and modern variation of the name stuck.
Today, according to Defenders of the Wild, the bison are almost "ecologically extinct" as a wild species throughout most of their traditional range.
There are a few national parks and other small wildlife areas that maintains small wild herds. Yellowstone National Park has the largest population of wild plains bison numbering around 4,000 and Wood Buffalo National Park has the largest herd of approximately 10,000 wild wood bison. There are two small herds of pure, wild Yellowstone bison at Fort Peck and Fort Belknap Indian Reservations.
There is one place you can visit and get up close to a small herd of native plains bison. Perfect 10 Bison and Hutchinson Organic Ranch near Rose, Nebraska is a working buffalo ranch that offers tours and even has cabins available for rentals. Dave and Sarah Hutchinson believe in "back to nature."
| | |
| --- | --- |
| | |
| Dave with some buffalo bones | One of the cabins |
Perfect 10 ranch has a closed self-sustaining herd of about 800 bison that roan across their 5,000 acres much as the bison did in the days of the pioneers. The grass is natural prairie grass and it's watered when necessary with pure artesian well water.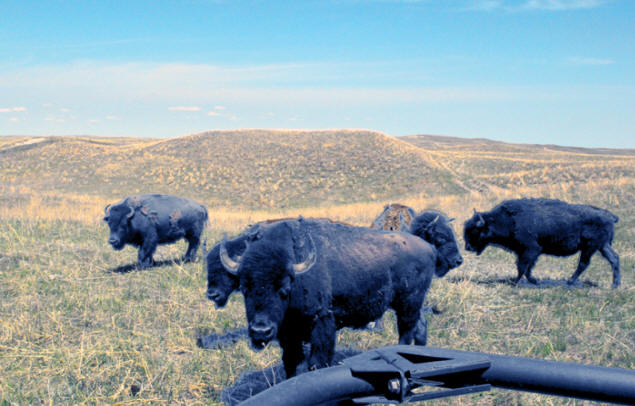 You can see from the ATV's frame how close we were to these big guys

Dave or his son-in-law, Jason, will take you out in an ATV

and search for the herd wherever they are grazing on the prairie.

It's surprising how close these huge shaggy animals will allow you to approach. Perhaps they sense that Dave is going to do right by them. He states, "I don't bring in any animals to breed. I maintain the natural order. All of these animals were born and will die on this prairie. You want to keep the great-great-grandmothers and the great-great-grandfathers around because they teach the calves how to be buffalo. When it is time to harvest they deserve to die with some dignity so I shoot them here on the prairie rather than take them to some slaughter house."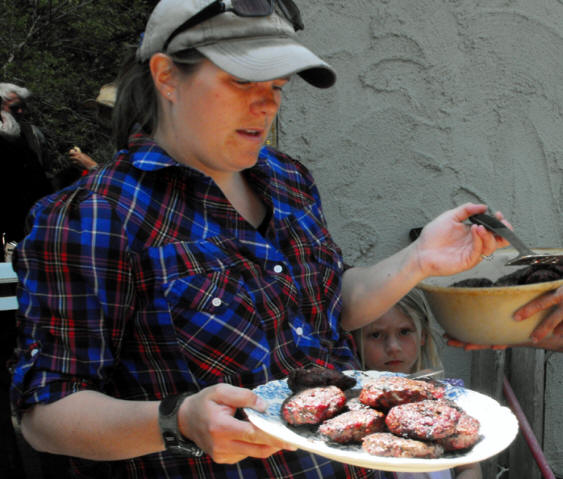 Dave's daughter, Sarah, serves some Perfect 10 Bison Burgers
Harsh? Perhaps but natural. Much better than overcrowded feed lots that smell of urine a mile away and have animals packed on top of one another awaiting slaughter.
Perfect 10 Bison Ranch produces grass fed, organic bison meat. Dave's wife, Sarah, prepared some bison burgers for us on a grill. She explained that they were pesticide free and twice as high in Beta-carotene as beef.
Along with the bison, the Hutchinson's raise goats and some grass fed cattle. They offer health seminars and school tours as well as ranch tours.
For most present day Americans, this is as close to the old west as we will ever come.
For Dave Hutchinson and his family, this way of life is like a sacred calling.
On our visit he welcomed us to the Perfect 10 with the following statement:
Nebraska's Sandhills have always been a land of big visions: Big Sky, Big Land, Big Horizons,
where the sky meets the earth and the waters below that comes bubbling up through the ground.
Where unending buffalo herds roamed over limitless land. Where visionary pioneers followed
their dreams to the western horizons. and man has lived with nature since time immemorial.
A land of big visions, unimpeded by man's works, allowing us to see into the soul of the Great Spirit.
It is no accident that it was here that Crazy Horse came for and received his Spirit Vision.p>
As a country, as American, we need this space, this frontier preserved. Even if we never get here,
knowing it's here makes us different, makes us Americans.
We welcome you to this land of limitless visions and hope that during the day, you will find
some time to go off by yourself and receive your own Spirit Vision. I would like to note it took
Crazy Horse almost three days without eating or drinking to receive his vision.
For more info: email buffalo@nntc.net