This is the ultimate agritourism destination. It's a 1,500 acre working cattle ranch but it's so much more. You can pick your own strawberries, blackberries, raspberries and other produce in season. If you don't want to pick, you can buy it at the produce market.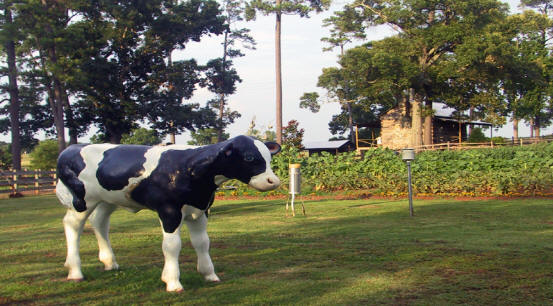 A make-believe-cow at Rock Ranch

You can also buy their grass-fed, grain-finished, no steroids or hormones beef or honey from the Ranch's own busy little bees. In this day of so many unsafe products out there, it's refreshing to learn the quality that goes into the Ranch's products.

Adam Pugh, Director of Events and Marketing at The Rock Ranch, said, "If you buy some of our beef, we can tell you exactly which cow it came from, what that cow ever was fed. And I guarantee you they never had any antibiotics."



One of the cabin's living rooms

That's all nice but not so exciting, you say. Well, how about a farm stay in one of their gorgeous cabins?

I stayed in one and it was a gem. Or maybe camping is your style.

For a different kind of outdoor experience try spending the night in a Conestoga wagon.

If all the wagons are rented you can still experience camping at Rock Ranch. Just haul out your tent.
The tower for the zip lines

You can come for the day or an extended stay and enjoy all the Ranch has to offer. Like adventure? Try one of their two Cow-a-Bunga zip lines.

The smaller one zooms over the corn field while the bigger one flies high above the tree tops and lake.

If you have little people traveling with you, visit Tiny Town. Little ones can run in and out of the buildings and play at whatever their imagination and the child sized buildings inspire.

Adults will marvel at the workmanship. The town has a church, a fire station complete with its own miniature dog house, a jail, a bank, Miss Nancy's Boarding House, in fact everything you would find in a small town all in a cute pint size. For some of the events, there are staged bank robberies then a shootout with the sheriff and the robbers are carted off to the little jailhouse.
A few of the kid-sized buildings in Tiny Town

Jeff Manley

, general manager at Rock Ranch and himself a Cathy protegee, explained how Tiny Town began.

He tells of how Truett Cathy, Chick fil A founder and owner of Rock Ranch, came up with the start of the children's village. "He always likes to find a bargain so he went to this auction and ended up buying four of the little buildings. Well, you can't do much with just four playhouses so we had to get the carpenters busy and build all the rest."

For all ages, the miniature locomotive is fun and a good way to orientate yourself to the different ranch attractions. There are paddle boats where you can get on the picturesque lake or the pedal cars for some fast wheeling fun.
Locomotive at Rock Ranch

There are so many different attractions and rides at the Ranch.

You can visit the petting zoo and admire the varied animals. The goats are particularly cute and the huge pot bellied pig is so fat he walked on his own hanging belly fat. The ponies are waiting to give rides. There is a pipe slide and a giant jumping pillow you can jump on like a trampoline. There are rides for the young kids and some for the older ones.

After all this adventure, you will be ready to eat. Chef Krista Fonseka is the overall chef for the Rock Ranch.
Chef Krista explains how she prepares a dish

For catered events Chef Krista will make you happy with her culinary creations. For the average day trip, there are several choices. The Chuck Wagon serves the ranch's own beef burgers, some of the Chick-fil-A Sandwich Meals and a few other choices. Big Daddy's Vittles also serves the Chick-fil-A Sandwich Meals along with some cool treats, Minute Maid Frozen Lemonade, Ice Dream and Sno Cones. Southern Fixings specializes in traditional food like BBQ Pork, Sweet Potato Fries and Fried Apple and Peach Pies for dessert. Naturally they offer that Southern Sweet Tea.

For those Smoked Turkey Legs you see everyone munching, visit

the Smoke House. To pick up those important gifts of homemade produce items or have a smooth Strawberry Ice Cream stop by the Farm Market & Gifts.

Chef Krista also offers classes on cooking special items such as barbeque, pasta, pork or cast iron skillet cooking. These are fun and informative but are limited in size and require registration.
A guest picks some lucious berries at the U-Pick-Patch

You will have to check their calendar as Rock Ranch is not open to the public every day. The Farmers Market is open most days. They offer a lot of school field trips and special events. Their fall season starts with Fall Family Fun Days and continue through the year with a short shutdown of much of the Ranch in Summer.

One of the biggest events is Pumpkin Destruction Day the first of November. You can bring in your Halloween pumpkin and bash it, smash it, drop it off a 50 ft. tower or even toss it under monster trucks.

Rock Ranch is a place where all members of the family can get closer to nature.

Authors note:>

S. Truett Cathy passed away Monday, September 8 just a few days after I completed this article. I hgad recently visited Rock Ranch to research it. When I visited Rock Ranch, every employee I spoke with there had fond memories and seemed to love him like family. Perhaps that is the highest honor any man can get. His family and friends have my sincere sympathy.

His success story is an inspiration to all. He rose from poverty to the CEO of a chain that was named number one "Chicken Chain" in the country and managed to maintain his principals throughout. Chick-fil A closes every Sunday because of his strong Christian principals. He kept the company private to be able to maintain his charitable ventures, which included sponsoring foster homes, summer camps and academic programs.

His good friend, President Jimmy Carter, described Cathy's faith: "In every facet of his life, Truett Cathy has exemplified the finest aspects of his Christian faith… . By his example, he has been a blessing to countless people," Carter said in a statement. "We are fortunate to be among those whose lives he has touched."

I hereby dedicate this feature to his memory.

For more info:

http://therockranch.com/