Article by Persis Granger - Photo header Courtesy http://nyskiblog.com/blog/gore-mountain/
Early map of the Gore ski trails




Courtesy Johnsburg Historical Society

The southern Adirondack Mountains have lured snow sports enthusiasts to their snow-clad slopes for at least a century. The crisp winter air, azure skies and white peaks of this vacationers' Mecca offer irresistible enticement, and the small hamlet of North Creek, NY, has hosted its share of winter adventurers.

A group of young men from North Creek returned from the 1932 winter Olympic Games in nearby Lake Placid determined to develop the winter sports potential of their home town. Those volunteers cut and cleared miles of trails, and members of the community helped publicize them.
1930s snow train arrives at North Creek Depot.
Courtesy Johnsburg Historical Society


Local folks transported early snow train passengers after they reached North Creek.Courtesy Johnsburg Historical Society



A club from the Albany area was excited, and on March 4, 1934, throngs of skiers bustled off Delaware & Hudson coaches, flooding the platform at North Creek Depot. At the arrival of this very first "snow train," almost five hundred visitors descended upon the tiny town of about six hundred. Local residents greeted the visitors with cars, trucks and buses ready to transport them to lodging places. Nearly every household with a spare bedroom dusted it off and made up the beds for guests. The vehicles were on hand again to ferry skiers to and from the slopes throughout the weekend, allowing them to enjoy the new concept of "ride up, slide down." It was enormously popular, and by 1936 as many as 3,000 skiers arrived each weekend to enjoy the challenges of the snowy mountain trails and to revel in the hospitality of this little Adirondack community. The snow trains ceased abruptly in 1942, however, when the US was plunged into World War II. Rather than vacationers, the steel rails were extended to the mines in Tahawus, and trains then carried valuable titanium dioxide to make camouflage paint for military vehicles.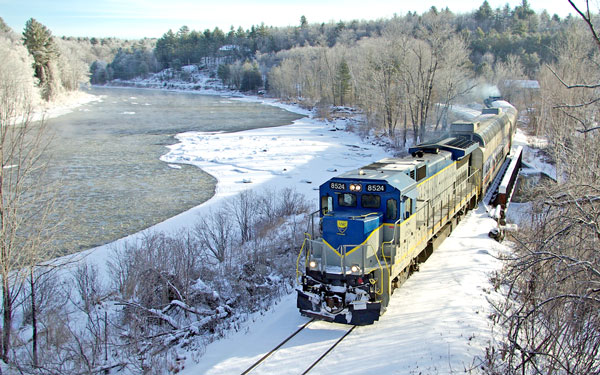 The SNCRR tracks trace the west shore of the Hudson River for most of its length.




Courtesy Saratoga & North Creek Railway

Fast forward to 2011, when the Saratoga & North Creek Railway (SNCRR), which had recently won the contract to run trains on the former D&H tracks now owned by Warren County, re-established rail service between North Creek and the Amtrak station in Saratoga Springs. Railroad officials announced that snow trains to North Creek would run once more, and the North Country once more rolled out the winter welcome mat at North Creek Depot.

Breakfast and scenery in the dome car are memorable.




Courtesy local artist and frequent SNCRR passenger, Sher Millis

Now in its third year, SNCRR looks forward to transporting more and more winter sports enthusiasts to North Creek in its climate controlled 1950s-vintage coaches with all the amenities. Passengers may enjoy breakfast, coffee, even a bloody Mary, on board as they enjoy the ride. For the premiere experience, one may buy a dome car ticket and revel in the bird's-eye view of the Hudson River corridor while gliding toward an Adirondack adventure. Once in North Creek, somewhat like days of yore, visitors may catch a shuttle to hotels, motels and skiing.

Some things, however, have changed since the 1930s. The historic Ski Bowl established as a nexus of the earliest trails, is now the site of a family fun park for tubing, snow boarding and skiing, and also a residential ski-in, ski-out complex. Those early trails are now incorporated into Gore Mountain Ski Resort, part of a mammoth trio of huge facilities operated by the Olympic Regional Development Authority (ORDA). It seems fitting that one of the three is Whiteface Mountain, the very site of the Winter Olympics that spurred those young volunteers back in the 1930s to invite the public to come to North Creek. Gore's current credentials would surpass their wildest dreams. According to Gore's official website, it boasts a vertical drop of 2,537' and 112 trails, including Alpine, glades and snowshoe and cross-country trails. With snowmaking possible over 95% of its skiable 437 acres, fifteen lifts and four lodges, Gore is a worthy destination for an outstanding train ride and a perfect partner for SNCRR, whose general manager Justin Gonyo notes, "We offer a unique product, in that our services allow [passengers] to purchase ski ticket packages to Gore Mountain at premier prices. We offer packages for downhill skiing, cross-country skiing, tubing, and snowshoeing. Of course, even if you don't want to be outside, you can stay inside and be warm at one of the many shops or restaurants in North Creek."

Gonyo also praises the "Haul Pass" discount for the avid winter outdoorsman, as well as discount rates offered to groups and seniors, concluding, "We offer full meal service on the train, and will take care of loading your baggage and skis." What more could a weary skier ask?
A couple relaxes on the return trip to Saratoga Springs.




Courtesy Saratoga & North Creek Railway

The train is a relaxing way to get to this mountain town from almost anywhere. After your weekend of skiing is over, re-board the train at North Creek Depot for your return trip and enjoy a warming adult beverage on the way back–all without the hassle of driving.

For more info:

Learn more about the SNC snow train schedule and rates at www.SNCSnowTrain.com
Check the skiing at www.goremountain.com
Energy on the Adirondack Slopes
This issue marks the beginning of my second year writing Adirondack Trail Mix, and in one of those late-night, bleary-eyed moments, I wondered if anywhere online I would actually find a recipe called "Adirondack Trail Mix." "Appalacian," yes, "Adirondack," no. But just as I was giving it up as a dumb idea, I hit on "Healthy Food for Living," a blog boasting a recipe that fit so well with this issue's column that it screamed to be included. Read below Lauren Zembron's home-tested recipe containing Saratoga Peanut Butter Company's Adirondack Jack, plus all of the great traditional trail mix/GORP ingredients. Lauren's notes, "Soft and chewy, these granola bars are a great on-the-go snack. I've also been enjoying them crumbled on top of Greek yogurt or cold cereal. As is noted following the recipe, I suggest a) chopping the dried fruit and b) baking the bars in an 8 x 8 inch square pan in order to yield granola bars that hold together well. The bars photographed here were a bit crumbly, but that could easily be remedied by following the noted tips." Crumbly or not, this writer thinks the bars would be great to stuff into a ski parka pockets for a mid-morning energy boost.
Trail Mix Granola Bars

Ingredients
<![if !supportLists]> · <![endif]> canola oil cooking spray
<![if !supportLists]> · <![endif]> 1/2 cup unsweetened applesauce
Directions:
<![if !supportLists]> 1. <![endif]> Preheat oven to 350 degrees F.
Line an 8 x 8 inch square baking pan (or a 9 x 5 inch loaf pan for thicker bars)** with parchment paper so the sides hang over the edge of the pan. Lightly coat with canola oil cooking spray; set aside.
In a medium bowl, combine the applesauce, liquid sweetener of your choice, nut butter, and vanilla extract; stir until the mixture is completely homogenous.
Fold in the rolled oats, puffed rice cereal, salt, cinnamon, dried fruit, and nuts and/or seeds. Spoon batter into the prepared pan, spreading into an even layer, and bake until lightly golden brown, about 20 minutes (add about 5 additional minutes of baking time if you're using a loaf pan).
Allow to cool in pan for about 10 minutes, then remove by picking up the sides of the parchment paper.
Allow to cool completely on a wire rack before cutting into bars.
NOTES:
*If using dried fruit that comes in larger pieces, such as cherries, I suggest roughly chopping them before adding to the batter

**Having made two batches of these granola bars, one in an 8 x 8 inch pan and the other in a 9 x 5 inch loaf pan, I can say that the bars hold together better when baked in the 8 x 8 square pan. Although I like the traditional rectangular shape of the bars from the 9 x 5 loaf pan, their thickness made them a bit more crumbly.
Find other great recipes at http://www.healthyfoodforliving.com and leave a note for Lauren if you try them.
Text and photo used with permission of Lauren Zembron.
Ads fund American Roads so please consider them for your needed purchases.
If you enjoy the articles we offer, donations are always welcome.