Bishop's Lodge Ranch Resort & Spa
Article by Warren Resen –
North American Travel Writers Association
Photos by Jeanne O'Connor
Welcome to Bishop's Lodge

Bishop's Lodge Ranch Resort & Spa was the first planned stop after leaving West Palm Beach on our 2013 cross country road trip. Until then it was just drive and stop for the night where ever we were.

Historic Bishop's Inn is nestled in the Sangre de Cristo Mountains, the southernmost foot hills of the Rocky Mountains just a few miles north of the historic, touristy, art-filled downtown of Santa Fe, New Mexico.
Desert waterfall at entrance.

In 1610, Santa Fe was proclaimed the capitol of the Kingdom of New Mexico by the Spanish governor making it the oldest capitol city in the country today.

To clear up any confusion at this point for Florida readers, St. Augustine, Florida, is the oldest continuously occupied European city in the United States having been founded in 1565, almost half-a-century before Santa Fe's capitol designation.

Running streams and gurgling waterfalls (man made) in the middle of this high desert country greeted us when we turned in at the entrance of Bishop's Lodge. As we arrived, several large mule deer watched our approach from across the road as if to let us know that we were in their territory also.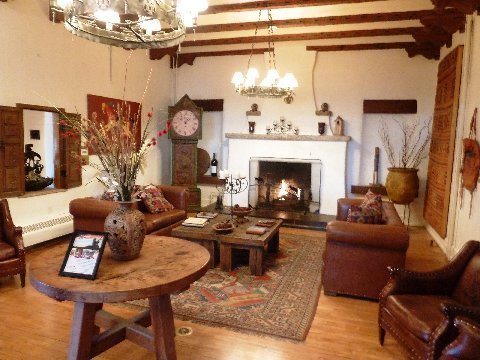 Main lodge registration area

Bishop's Lodge is named for Jean-Baptiste Lamy (1814-1885), the first Archbishop, appointed by Spain, of the Southwest Diocese, who arrived here in the mid 1800's. Bishop Lamy lived on this site for many years and the small chapel, which he built on this property almost 160 years ago, remains practically unchanged from its original design. Still in use today, the chapel is open for guests to visit and a favorite location for weddings.


This area of New Mexico is a world of open spaces, crisp mountain air and four seasons. Bishop's Lodge is spread out over 450 acres of rolling foothills adjacent to the Santa Fe National Forest, its earth-tone adobe buildings blending into the landscape.
Typical lodge building

Bishop's Lodge is not a monolithic resort with a large bustling central lobby, its rooms radiating out in all directions. The Lodge's registration and public areas are comfortably furnished in traditional southwestern style incorporating Colonial Spanish, Native American and southwestern furniture, art and artifacts. Typical of a charming, warm, inviting hacienda, the setting sets the theme for the rest of the resort.
Heading out on the Sangre de Cristo Mountain Trails

An obscure booklet about the resort, which I was fortunate to obtain, titled "From Retreat To Resort," describes the property and its history and best sums up the soul of Bishop's Lodge. "The Lodge is modern and up-to-date in every respect and offers all of the comforts and conveniences of the leading metropolitan hotels, yet it possesses none of the atmosphere of a hotel. On the contrary, it is most homelike. It is a place where one may take things easy and enjoy the pleasure, wonders and glories of the out-of-doors in absolute comfort but without any of the unnecessary conventions of fashionable retreats." That is precisely what we encountered everywhere we went on the property.
Las Fuentes Restaurant

There is no reason to leave Bishop's Lodge during your stay. Everything is here for your comfort and enjoyment: horseback riding for beginners and advanced riders (their horse or yours), miles of hiking trails, mountain biking, skeet & trap shooting, fitness center, outdoor heated pool, hot tub, tennis, spa, winter skiing, nearby golf courses and many more amenities. There is also a camp for kids on the premises. Should you want to visit the nearby bustling city of Santa Fe with its world-class museums and fabulous shopping without the hassle of trying to find a scarce parking space, Bishop's Lodge provides complimentary shuttle service.

Bishop's Lodge residences offer guests a mix of accommodations ranging from distinctive rooms located in the lodges, to suites and 2 & 3 bedroom Villas. A few on-site single family units are available for purchase or lease. All units are comfortably and individually furnished with decor reflecting the area's history
One of many original paintings in
La Fuentes Restaurant

As to that all important question of, where to go for dinner, Bishop's Inn has the answer….the Las Fuentes Restaurant and Bar in the main lodge. The restaurant's menu offers "contemporary American cuisine with a Southwestern flair" in a setting that pays tribute to

the area's history and surroundings. Rustic beamed ceilings, Navajo rugs and murals by the famous Santa Fe artist W.E. Rollins add to your dining experience.

The restaurant is also open for breakfast and lunch but it is the dinner menu that was of greatest interest to us. Diners can make their selections from "the mountain top" or "from the waters" listings on the menu.

Their signature dishes, supplied by local sources, include Braised Buffalo Short Ribs, Pan Roasted Lamb Loin and trout. Samplings and salads are prepared from fresh local ingredients. Vegetarian and vegan diners have their own selection of fresh foods.
Bishop Lamy's original chapel building

A knowledgeable and efficient wait-staff took our orders while soft guitar music played in the background. Sandwiches, fresh salads and drinks are available to guests on the main lodge's Sunset Terrace or poolside from the Sunflower Bar & Grill.

Favorite reading for many guests after visiting Bishop's Lodge Resort & Spa is the novel "Death Comes for the Archbishop." American author Willa Cather (1873-1947) visited the lodge in 1927 and based her story around the life of Bishop Lamy for whom Bishop's Lodge is named. The novel concerns the attempts of a catholic bishop and a priest to establish a diocese in the New Mexico Territory.
Original chapel

I've often been asked why room rates are rarely mentioned in my articles. Trying to quote exact prices is like trying to hit a moving target.

Rates at hotels vary depending on unit, season, day-of-the-week, special promotions and many more variables.

Bishop's Lodge Ranch Resort & Spa is a proud member of Historic Hotels of America guaranteeing a commitment to preservation and authenticity of the property.