Traveling Country Roads In Autumn

Article by Mary Emma Allen
Nothing more beautiful than a mountain cabin in fall. Photo credit Kathleen Walls

Traveling over country roads in autumn, when colorful foliage is at its peak, provides us with an enchanting adventure. Although the superhighways offer vibrant vistas, the winding country roads present an interesting and relaxing way to travel.
It's a time to go at a slower pace and explore the sights and sounds, the byways you may not have wandered over before. The colorful foliage offers a rich tapestry to enjoy, too.
Sometimes our travels over the back roads is by choice. Other times it's the only way to get to our destination. Throughout New Hampshire, where we live, there are many winding roads and not many Interstate highways, especially as you go east to west in the state.
On country roads we get to see the small towns, the farms and colonial homes. Stone walls line some of the roads and zigzag along the borders of fields and pastures. Sometimes we see them streaking across the woods beyond the road and know that the highway once followed that route.
Colorful USA Foliage
My husband's and my travels have taken us to many areas in autumn.
Throughout New England the maples flame, oaks turn deep red, and other trees become orange, gold, and wine.

In the Colorado Rockies, the aspen sway in golden dress along the country roads. Sometimes you even may be delayed by a rancher taking his cattle from the high country to the ranch at a lower altitude. This experience gave us even more time to view the golden countryside.

In Utah, there aren't so many colorful tall trees. However, the bushes covering lower levels of the mountains provided us with spectacular colorful views.

In Ohio, when we visited our daughter at college, we found more muted hues on the trees, but they were enjoyable just the same.

When you discover stone walls along the roads, leftover from decades ago, the sight will take you back in history.
History of Country Roads
I enjoy discovering the history of the country roads and finding out when they first were laid out. Many followed the pathways of the native peoples. These then were trod over by the pioneers and became a regular route to reach towns and villages. Later, many were paved and eventually became modern highways.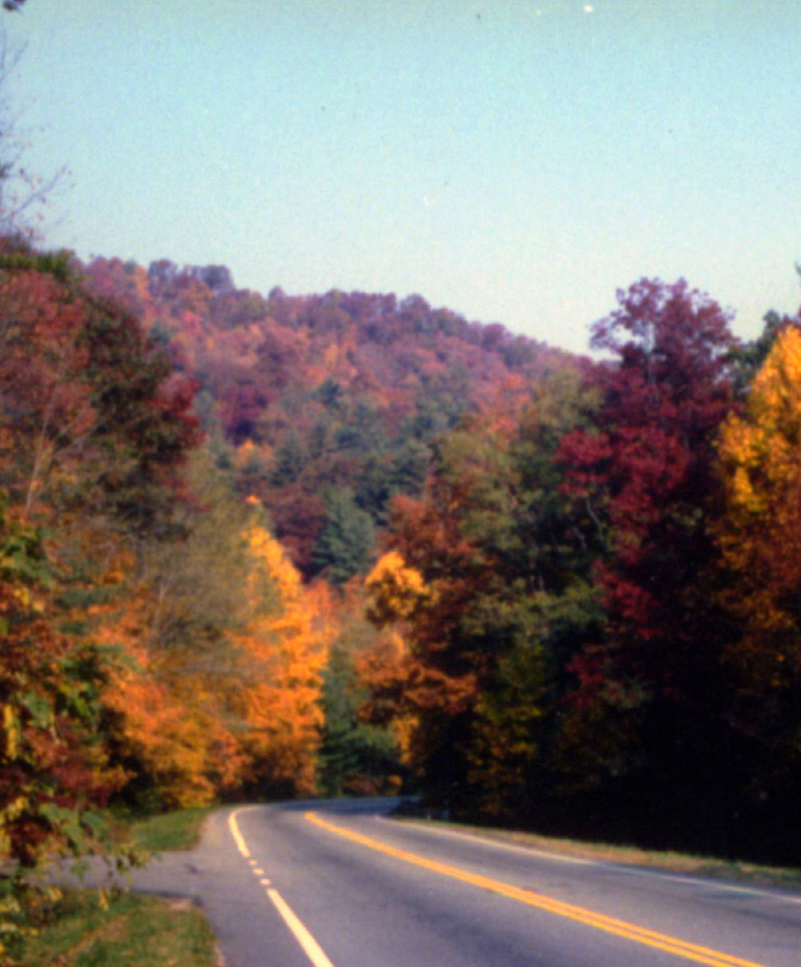 Hwy 129 in Union County Georgia was once such a dirt road.
Photo credit Kathleen Walls
We live on a dirt road that once was a stagecoach byway. The road is now dead end, culminating for traffic at our neighbor's home, a few hundred feet beyond our driveway. You can walk further, following the old road bed. Bikers, hikers and snowmobilers travel this pathway and come out on a paved highway. I like to envision the pioneers as they traversed our woods.
Making a Country Road Album
What memorable country roads have you discovered in your travels? I've had an enjoyable time compiling an album with pictures and memories of the country roads I've trekked and traveled. Many of the photos were taken in autumn.

Meeting of the Great Rivers Scenic Byway between Alton and Grafton
would make a great postcard. Photo credit Alton CVB
Your album may be a scrapbook, mini or larger photo album, a CD or a slide show. Make postcards from your photos, too.
(Mary Emma Allen writes from her NH home and during her travels.

Exploring country roads and the history connected with them has long been an interest of hers.

She also teaches classes in scrapbooking and family history writing. E

-mail:
me.allen@juno.com
)
American Roads


Promote Your Page Too
Ads fund American Roads so please consider them for your needed purchases.


If you enjoy the articles we offer, donations are always welcome.