by Persis Granger

The annual week-long visit from our youngest grandsons, ages 11 and 8, is always an occasion for us to plan an Adirondack itinerary that is both kid-friendly and septuagenarian-doable. Our week 's adventures usually combine outings that have been popular with the boys before, plus some new destinations. It starts something like this: Hey, guys, you know that neat rock shop we went to last summer? Do you want to go there again? We turn on our "enthusiometers"' to determine the level of genuine interest they have in revisiting that attraction or activity. And then we plan a couple of treks to sites we have not taken them to before, often places we ourselves have never visited, either, which makes it an exciting discovery time for all of us.
Prior to this year's visit, my husband and I studied area brochure racks and were amazed to find out how many interesting new attractions have sprung up in our area of the southern Adirondacks. After flipping through half a dozen rack cards, our attention returned to the brochure for Bennett's Riding Stable, a place we have driven by for all of our 46 years in these mountains. We found more information online and decided to surprise the boys with that idea on their first day. "Say, have you two ever ridden a horse? No? Do you want to? "
In moments the horses were saddled bridled and ready to go

They did, so off we went to Bennett's, located in Lake Luzerne, just ten minutes southwest of Lake George Village. In the summer Bennett's is open seven days a week from 9 a.m. to 5 p.m. We had read that the one-hour western guided trail rides required no reservation, so arrived unannounced. We sat for a few minutes with another family and saw no staff, but suddenly the admissions person arrived and the horse enclosure began filling with employees leading horses and the parking lot filled with cars. We watched as staff carried in tack to saddle up the horses for the trail rides. Many more guests had been checked in and the folks who had come for the two-hour ride left the stable area. We were next, and I was as excited as the boys. Each of us was given a helmet and introduced to the horse selected for us to ride. My husband, having had in his youth a series of unfortunate encounters with horses, wore an anxious face, but his worries soon put to rest, because the trail guide clearly knew what she was doing, and she assured us that the horses knew what they were doing, as well. While we waited for the ride to begin, my horse kept tossing her head, and I held the reins, trying to kid her into thinking I was in control.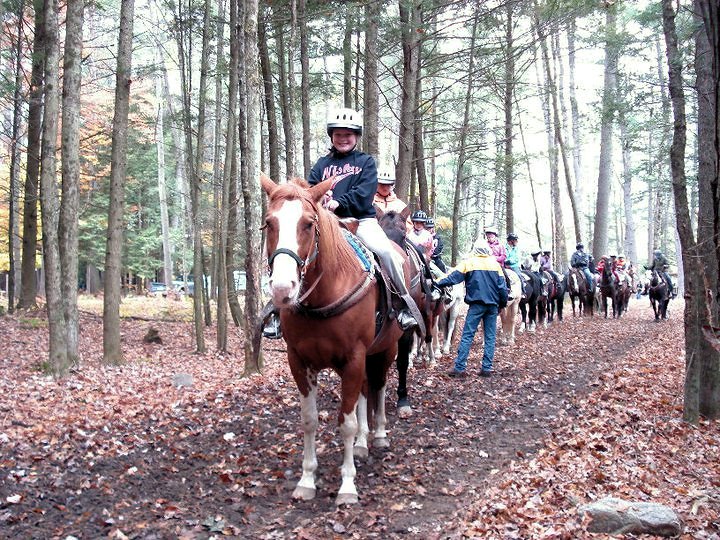 O

ur group looked much like this one as we set out through the woods.
"Lay the reins on her neck," the guide said. "That 's what she 's trying to tell you." We were in good hands. Before we started out, staff members, under the watchful eye of the guide, checked each rider for correct stirrup length and made sure we all knew how to use our reins.

Then off we went, with the trail guide in the lead. We also had a "tail guide " bringing up the rear, since our group was fairly large and many of us had admitted to being rookies. At intervals the trail guide called out instructions and reminders, such as, "Keep your heels down!"' or "Riding uphill, lean forward; going down, lean back." And there were specific messages to individual riders, like: "You, on Willow! Don't crowd the horse in front of you. He doesn 't like it."
It wasn 't long before we had relaxed sufficiently to soak up the beauty of the woodland around us. We ambled along the nicely curving, carefully smoothed trail that I later learned was the handiwork of Larry Bennett, husband of the owner, Bonnie. "We call Larry the "Trail Master," she says. "People have no idea what is entailed in creating a trail. Trees have to taken down and cleaned up, boulders have to be moved, and the ground has to be graded to level out the bumps and fill in the hollows. It's very important to slope the grade to create good drainage." They have access to a substantial amount of land, allowing for miles of trails looping around and criss-crossing. Near the end of our ride, we met up with another group of riders at a "crossroad," waited while they passed, then went on our way back to the stable area. There we dismounted, thanked our mounts and our guides, and left for our next adventure, still discussing the wonderful ride at Bennett's.
I considered all the glitz of the commercial attractions in the Lake George region, the zip lines, parasailing, roller coasters, steamboat rides, museums, concerts and arcades, and had to know how a business as traditional as a riding stable could compete. I called Bonnie Bennett.

F

ounded in 1942 Bennetts riding stable has been family-owned ever since
Bonnie filled me in on the history of Bennett's, which was started in 1942 by Willis Bennett, the uncle of Larry, or "Lawrence," as the family always called him. In 1943 and 1944 Willis went off to serve in the army, only to be taken prisoner during the Battle of the Bulge. '1943 - 44 was the only time the business has not been operated, " Bonnie told me. It had been a part of Larry 's life since childhood. Larry grew up nearby, and one day Willis came over and said, "Son, " (he was never good with names) "how old are you? "
Larry said, "Eleven."
"That 's old enough. Come with me." Just like that, Larry became a trail guide. Willis' job orientation? "For a trail ride, just lead 'em down this trail, and when half an hour is up, turn 'em around and bring 'em back."
Eventually Larry went off to college to prepare for a career as a history teacher. Through a friend he met Bonnie, a nurse who was a native of Queens, NY. Bonnie, who had always loved horses, was drawn to him, and admits with a laugh, "I married him because he had a horse." Over the years, Willis continued to run the stable, but in 1986 his daughter took over. By 1989, she knew it was more than she could manage. Willis turned to Bonnie and Larry.
"No, " Larry said.
"Yes, " said Bonnie.
"Yes, we can do it, " said oldest son, Jeff, almost simultaneously.
Today she shakes her head. "I was 42, and I had a three-year-old child, our fourth of four. We had no money. Larry was working days, and I was working nights. We had fifteen horses to feed. Winter was coming, and we had no hay." She went on to say that every day after teaching, Larry would take his old rattle-trap pickup to Whitehall, about 35 miles away, and buy a big round bale to get them through until the next night. He 'd bring it home, and they would roll it out for the horses to eat before going in for their own dinner. Eventually, with a lot of hard work, it all came together for Bennett's Stable.
Over the years, all of the Bennett kids, Jeff, Greg, Laura and Jennifer, developed skill with horses. The girls excelled at barrel racing, and the boys at steer wrestling. Greg, in fact, has won a national championship award. All have become involved in the riding business, too, working summers as they progressed toward careers in teaching. Next it was the kids and their spouses, and later even their kids became part of the growing business, which seemed to find roles for each, no matter how young or how old. Bennett's business interests now include rental houses and cottages and an amazing variety of rides.
"We're always learning," Bonnie said. "There's so much to know. There's the care of the horses, and their health. Then there's publicity. We have a new brochure in the works and the employee management is a big job." They've met and molded some good young employees over the years, many of whom have gone on to successful careers in various professional fields.

Snowmobiles opened a new season for the business

In a region where winters can be very long and bitterly cold, Bennett's Stables needed a way to extend their business season, not only for their own income, but to provide year-round employment for some of their staff. They created Lake Vanare Snowmobile Tours which make profitable use of their horse trails in the winter.
T

he mountain rides are popular at Bennetts

In addition to the snowmobile tours, and the one- and two-hour western-style trail rides, Bennett's Riding Stable offers mountain rides and special sunset dinner rides up Beech Mountain, where the spectacular view must compete for attention with Jeff 's sizzling steak dinner. What 's next in the stable 's itinerary? Bonnie says they'll soon be offering breakfast rides to a clearing beside a babbling mountain brook. They've done a few test runs, and it promises to be very popular.
Despite growth and changes in the business, some things never change. Bonnie loves the horses. And she loves and is immensely proud of her family and the way they pull together to create a great experience for their guests, with special emphasis at all times on safety. She savors the return of long-ago satisfied customers, saying, "One of the best experiences is when someone who came riding here as a child comes back with their own kids or grandkids, says, 'Oh, GOOD! You are still here!'"

Perhaps someday our grandkids will go back with their offspring, fondly recalling their first horseback ride at Bennett's Riding Stable. I hope so.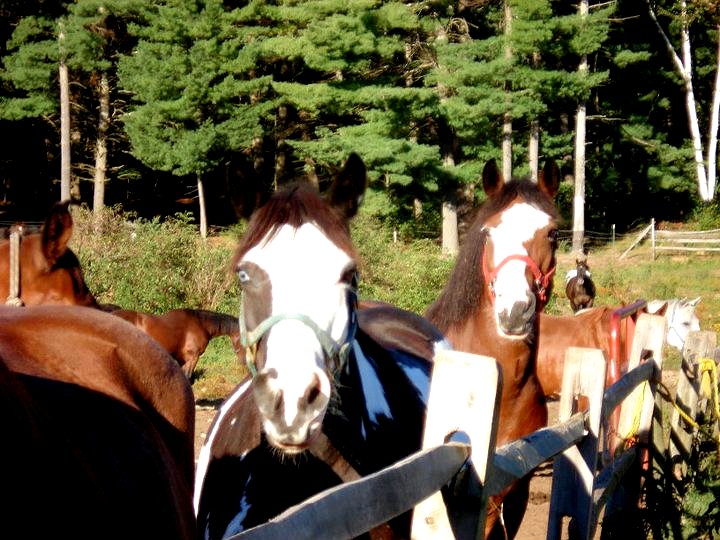 Bennetts riding stable was built on a love of horses
Ads fund American Roads and Global Highways so please consider them for your needed purchases.
If you enjoy the articles we offer, donations are always welcome.