Gullah Heritage & Modern Art,





St. Helena Island, S.C.



Article and artwork by Anne Jenkins
A day drive along the art trail of the atmospheric island of St. Helena in South Carolina's Low Country offers exciting original art, a fascinating African-American museum and delicious food. It is an area that begs to be sketched, painted and photographed. You can spend all day dawdling the mere 14 miles loaded with live oaks dripping Spanish moss – which, by the way, is very hard to paint, for me anyway - glimpses of salt marshes, white beaches and brilliant blue sky.
White beaches and sea grass, you can definitely see which direction the prevailing wind blows, acrylic on canvas (in private collection abroad)
You'll meet the nicest people along the way as you sketch or buy fabulous art. It is fascinating to learn about the vibrant Gullah culture in a collection of historic buildings, known locally as "the corner." The general area is also known as Frogmore, named after a nearby plantation.
You can't miss "the corner" just eight miles south of Beaufort on Hwy 21 where Sea Island Pkwy meets Martin Luther King Dr. Look for the landmark The Red Piano Too Art Gallery as the central spot, prominently visible on the corner. The old building used to be the St Helena Island Farmers Cooperative building. Now it's a 3-room treasure trove of local and regional self-taught artists, folk artists, fine artists including Jonathon Green, WJ "Billy" Wilkie and the carvings of the "Picasso of Frogmore," aka Lynwood Polin. There is a real treat on a level up from the gallery floor. It houses the "Vintage Collection" with amazing folk artists like Jimmy Lee Sudduth, Mose Tolliver, Jake McCord, Purvis Young, Woody Long and Missionary Mary Proctor. It is a privilege to see this collection of folk art superstars in one place.
Sample of artwork of
"
the Picasso of Frogmore": Lynwood Polin
Mary Mack has owned the gallery for over 20 years and has a vast knowledge of art and a fine respect for her artists. An artist herself, and a South Carolina native who attended Queens College in New York and received her Masters from Fordham University, she retired after years in the health services field and is following her passion full time - art. Talking with her is a balm to an artist's soul.
"Art is more of a passion than a business," Mack said. "Choosing a work of art is an investment - spiritually, emotionally and financially."
There is a piano inside Red Piano Too Gallery.
Collecting art is no longer considered to be just for the wealthy or elite, Mack explained, and she encourages others, especially young people, to collect art as part of their personal achievement. Follow her advice and hear her stories of the art and the artists, it makes for a rewarding experience - and will make your art purchases so much more meaningful.
Gullah Grub Restaurant
After this you'll definitely need some good Gullah Grub to keep your strength up for the rest of the tour. Across the road from The Red Piano Too is a lovely old building housing the Gullah Grub Restaurant. If you enjoy sketching inside restaurants, this place has lots of material to inspire you. I was particularly enchanted by the mason jars they serve the water in.
Gullah Grub serves good homemade cornbread and water in a mason jar
Feast on the outstanding fish chowder and shrimp gumbo. The shrimp n'shark plate is out of this world. They use the local lemon shark which has a sweet tender meat. They have daily specials and by good chance you might find goat curry or conch stew on the menu. Al, owner Bill Green's brother, on occasion serves as waiter and he told me their Frogmore Stew is very good - and he's not biased of course!
Eating at Gullah Grub is an experience in it's own right. Stories of Bill's riding as a drover at the local hunts and local patrons coming in with their stories make for a memorable meal. If you are lucky, one of the sweet water basket weavers will have set up shop on their verandah.
Sweet water basket weaver on verandah of Gullah Grub
Now you're well fed and ready to absorb history at the Penn Center, a couple of miles down Martin Luther King Drive. This is a thought provoking and interesting museum housed on the 50 acre campus of the first Gullah school - it opened in 1862 as one of the first schools for freed slaves and focused on teaching self-sufficiency during the transition from slavery to freedom.
The Butler Building at Penn Historic District, it is a strange shaped building.
The Penn School Historic District is comprised of 19 buildings, most notably the Darrah Hall which is one of the oldest buildings on the island and Gantt Cottage where Martin Luther King, Jr. stayed. The York W. Bailey Museum houses four galleries and a gift shop, holds monthly art shows and offers various workshops. This is truly an honest experience and you need to give yourself time to absorb it all.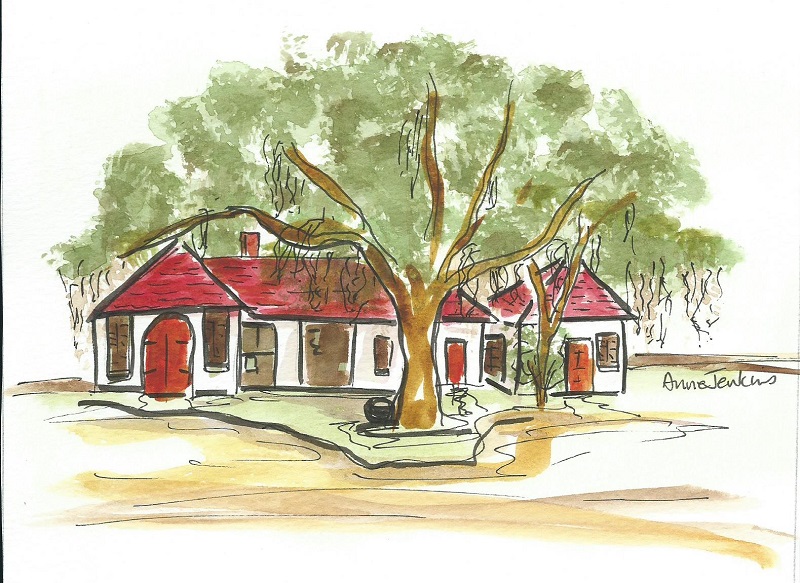 Historic Penn Center cluster of buildings with Spanish Moss,
not very successfully sketched Spanish Moss.
Finish the tour off with a visit to Gay Fish Co, renown for their fresh seafood and also their shrimp boats being used for the filming of Forrest Gump and Prince of Tides. It's an evocative setting, one I have returned to time and again painting shrimp boats nestled in the marsh.
For some strange reason, I rarely do paintings from my sketches and I have no sketch of the shrimp boats in the marsh. But I have painted lots of large canvases of the scene - it turned out to be a very successful series... here is one that is now in a private collection overseas.
Shrimp boats moored in the marsh, acrylic on canvas
(in private collection abroad)
All images copyright Anne Jenkins. All Rights Reserved.
Location and business Information:
The Red Piano Too: 870 Sea Island Pkwy, St Helena Island SC 29920 RedPianotoo.com (843) 838-2241span style="mso-spacerun: yes">
Gullah Grub Restaurant, 877 Sea Island Pkwy (843) 838-3841 gullahgrubs.com
The Penn Center: The museum is open to the public Monday through Saturday from 11:00 a.m. - 4:oo p.m. Admission is $5 for adults, $4 for senior citizens and $3 for children. Groups over 10 people get in for $3 p.p. They have maps with detailed explanations available at the museum. There are cultural programs, lectures, demonstration and lessons all year. Check out penncenter.com for details or call (843) 838-2432
Gay Fish Co., Inc., 1948 Sea Island Pkwy (843) 838-2763
American Roads


Promote Your Page Too